UV/EB Curable Solid Resins
High performance resins used in ultraviolet (UV) and electron beam (EB) powder coatings for heat sensitive and traditional substrates, additives in inks and toners, 3D printing/additive manufacturing materials, and specialized UV/EB cured products.
Keyland Polymer's UV solid resins are sustainable, contain no volatile organic compounds (VOCs,) and they are safe to make and use. Keyland's resins are REACH compliant and meet other stringent environmental regulatory requirements.
Keyland Polymer currently offers two resin formulations:
UVP-1300 Unsaturated Polyester-Methacrylate Resin
UVE-5100 Epoxy-Methacrylate Resin
Get the Solvents OUT
Learn how you can replace solvents and other regulated materials with UV/EB cured solid resins.
Get Started
Powder Coatings
For use in UV curable powder coating formulations
Benefits Include:
Low Temperature: Ability to finish heat sensitive materials
Fast Efficient Process: One coat system with instant cure; no dry time required
Durable Finishes: High performance finish with excellent wear properties
Energy Savings: Up to 70% energy savings compared to thermal curing
3D Printing
For use in the 3D manufacturing and printing industries
Benefits Include:
Speed of Cure: Instantaneous once exposed to UV light
Low Temperatures: No distortion of substrate
Performance: Improved physical and mechanical properties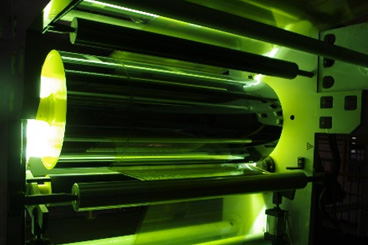 Inks & Toners
For use as an additive in ink, toner, and overlay varnish applications
Benefits Include:
Process Improvement: Reduced oxygen inhibition
High Molecular Weight: Reduction in extractable compounds; improved mechanical properties
Health & Safety: Very low odor, no skin or lung irritation. No solvents or BPA
Ease of Conversion: Ability to use existing equipment
Innovation is the forefront of our business. We love the challenge and will work with you to develop a resin to meet your specific requirements.
Keyland Polymer has a complete resin synthesis lab with global reach and distribution capabilities for the development, formulation, testing, and manufacturing of UV/EB curable solid resins.
Contact Us
Have questions? Want to know more technical information?
Fill out our contact form to get started.
Contact Us